NEXT DAY DELIVERIES NATIONWIDE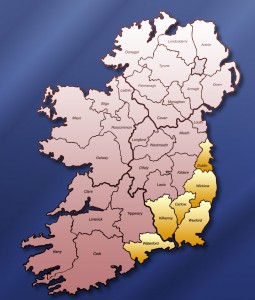 Every day, Breen Transport collects 800 plus consignments from our customers and delivers them anywhere in Ireland the next day, every time, on time.
How does it work?
Nightly we tranship our freight at the main hub in Dublin for onward delivery, to ensure your freight meets its destination.
Our area
Our next day deliveries cover seven counties in Ireland with our own fleet – Wexford, Dublin, Waterford, Carlow, Kilkenny and Wicklow.   We also cover South Tipperary.
Our Drivers
Our uniformed drivers have a professional attitude to customer service. They are trained to the highest standards in house, all of which presents a professional image when your goods are being delivered to your customer.
Our Fleet
Our freight is mainly delivered using 23 Eighteen Tonne Curtain-Sided Rigid vehicles. The fleet also includes 9 refrigerated rigid, 6 articulated tractors and 4 Six-Tonne Van's for parcel work in built up areas.
We take pride in the fact that our modern fleet is maintained to the highest standards by our own in-house mechanics.
This also presents a professional image to your customers when your freight is being delivered.
Our Transport Staff
Ciaran Halford, Paul Tuohy, William Cullen, Eric Jackson & Gretta Heffernan are the people behind your freight. As a customer focused transport team, they ensure that your goods get to their destination next day, every day.
Our Administration
At Breens we have an administration team second to none.
The day after your freight is delivered, we can email or fax a POD to you on demand.
We are shortly upgrading our Transport system whereby, our customers will be able to log on securely onto our website and obtain their own POD using their own delivery reference.   Contact info@breentransport.com  if you wish to access your account online.
Finally, we will ensure your invoice for the correct charge as agreed, is either posted or emailed to an address as nominated by you.